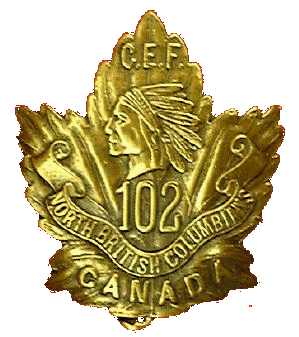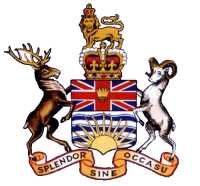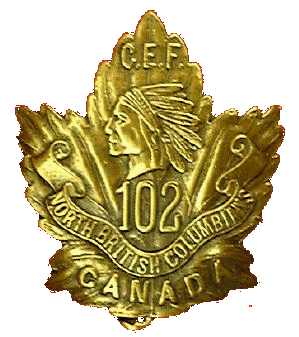 The Story of the 102nd Canadian Infantry Battalion
From BC to Baisieux by Sgt Leonard McLeod Gould HQ 102nd Canadians WW1
Chapter 1 Chapter 2 Chapter 3 Chapter 4 Chapter 5 Chapter 6 Chapter 7 Chapter 8 Chapter 9
Chapter 10 Chapter 11 Chapter 12 Chapter 13 Images The Author The VC 29th Battalion Links
102nd Battalion Honours and Awards - from Steve Cowan in Comox
Cpl Heaven's Grave Site Re-dedication 22 Sep 2012
Read the Story of George Ireland who`s Grandson Pat Quinn was a noted NHL Personality
After 2 years of war the Battalion Staff gathered in Boitsfort Belgium in 1919 for a group picture as they waited to return home. Thanks to Dr Paul Morly.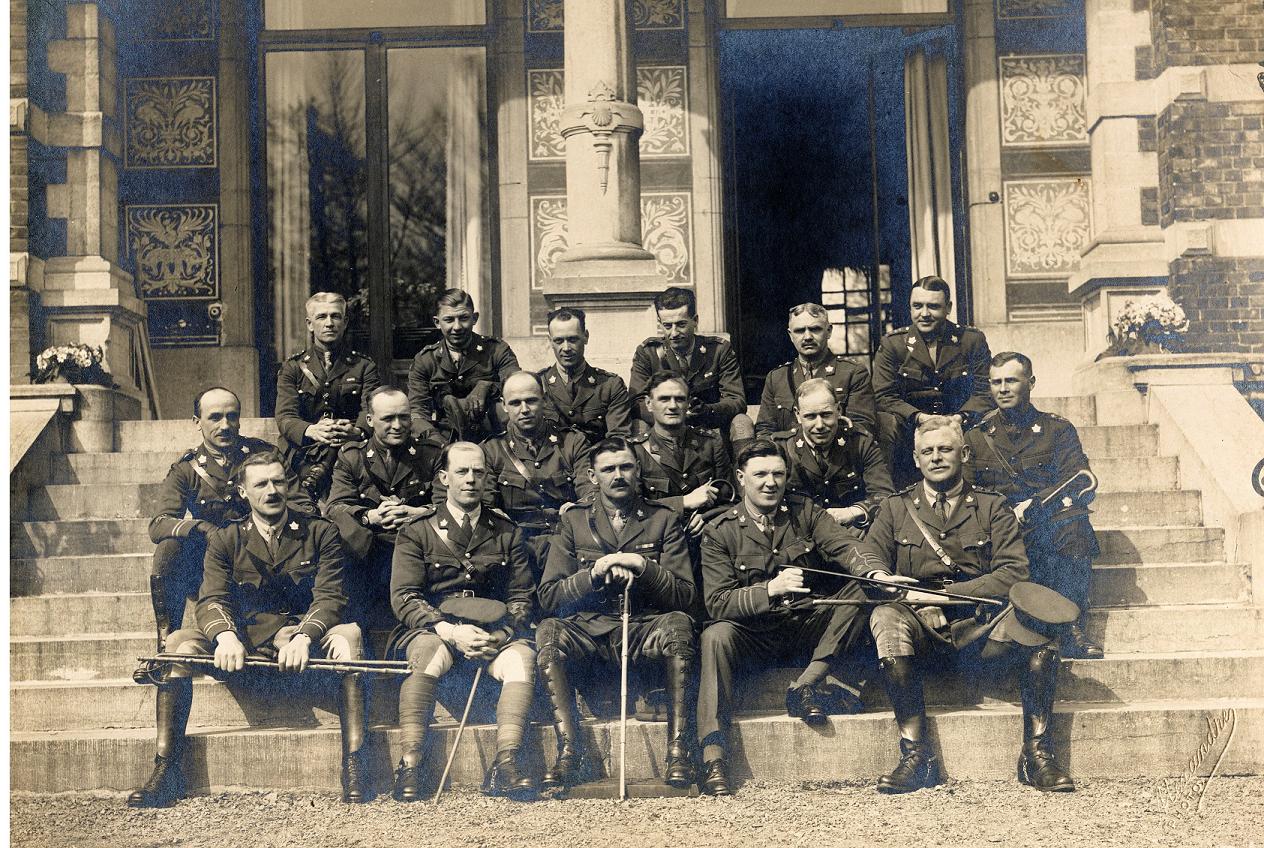 Click below for their names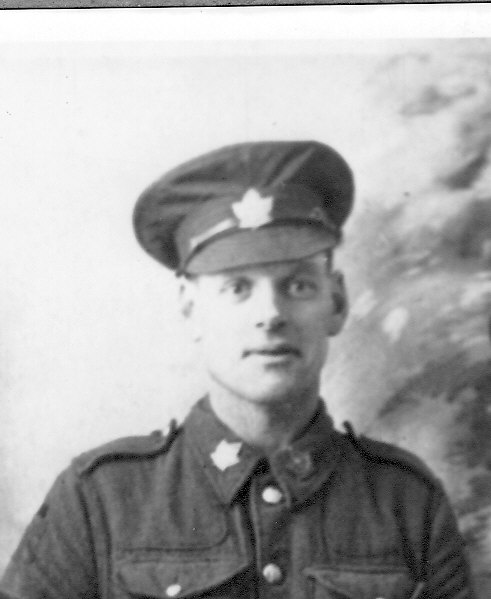 HOLT, JAMES

Regimental number: 761160 Al Martin from BC writes: My grandfather immigrated to Canada as an infant with his parents. His occupation was a barber as noted in his attestation papers. He married my grandmother Laura Kate Holt, Dec 12, 1910. They had four children, my mother being the oldest. James had two children when he returned from the war. He returned to barbering and moved the family to Port Haney, now Maple Ridge for a few years. They then moved back to Vancouver. At this time there were now four children. Three daughters and a younger son. During World War 2 all his son in-laws served with the Canadian military overseas. Their son, my uncle, was too young to enlist. James continued to barber in Vancouver at a small shop on Smithe Street until he passed away at the age of 72. He was working half days and had come home for lunch. After lunch he laid down for a nap and never woke up. My grand mother blamed the gas from WW1 for her husbands death.

Private Fry Protects the Attack on REGINA TRENCH 21 Oct 1916

CLICK SLIDESHOW ON THE RIGHT WHEN IT OPENS

Edwin Grant 102nd WW1 Soldier Remembered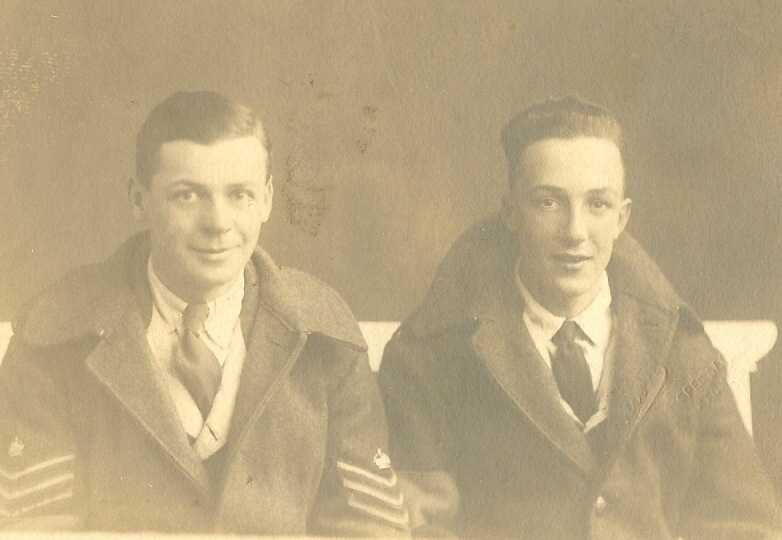 Sidney A Tyers, 38th Battalion CEF and Pte. Hughes 102nd Battalion CEF. Thanks to Ms. D.M.Beaman grandaughter of Sidney Tyers.
Countess of Wessex Dedicates plaque to Victoria Cross Winner
Lt Graham Lyall
Click picture for story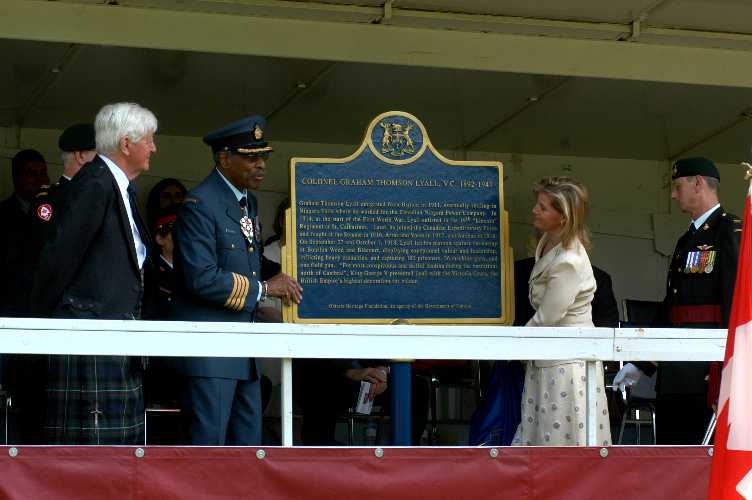 Maj Frank Gary at Buckingham Palace after receiving the Bar to his MC.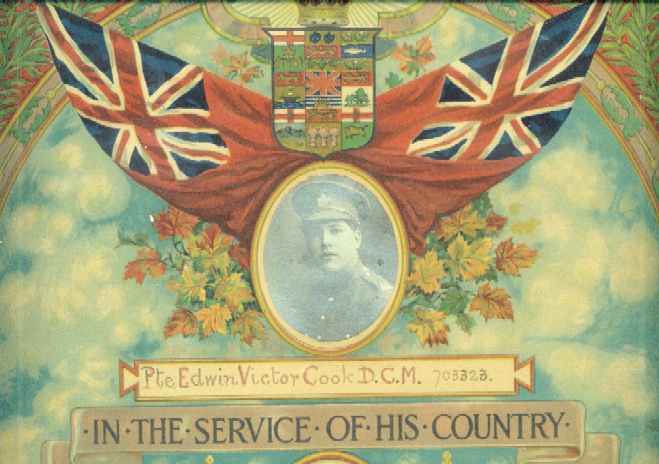 Unknown 102 Soldier
Who was he??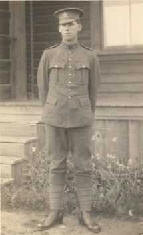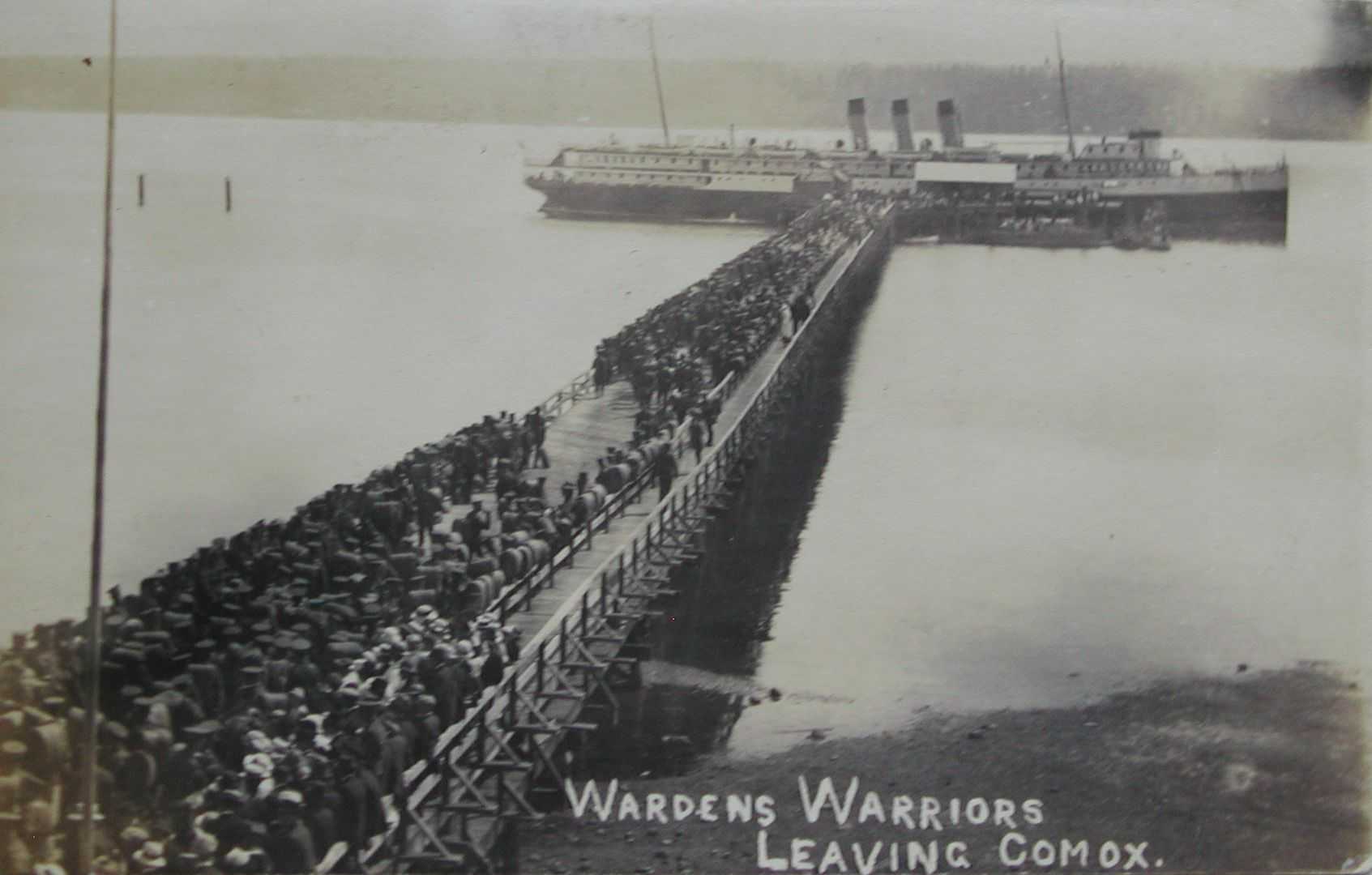 Thanks to Rob Piggot for the great shot of the Princess Charlotte
Haunting melodies from the Menin Gate at The Great War Website
(These are MP3 files that will open in your media player)
The Last Post and Reveille (revelle)

Maj Frank Gary (a U.S. Citizen) and member of the 102nd Bn Remembered
6 May 04 a new pic on the page - click link above!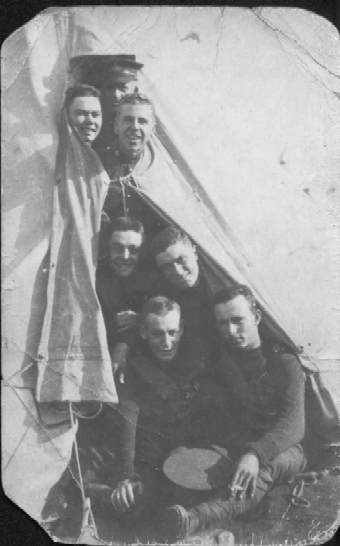 Gordon Dobson and friends
The Song of the Spit
(Sung to the tune of "John Brown's-Body)
We're Warden's weary warriors, a'drilling on the sand,
And paying out a buck a day to help the bloomin' band.
But what they do with all the cash, we don't quite understand,
As we go marching on.
The Colonel forms us up in line ands hands us lots of bull:
"You are the finest bunch of men that trigger e'er did pull."
On beef and beans and bread and Jam we keep our bellies full,
As we go marching on.
The sand gets in our blankets, and the wind blows chill and drear.
If life was dull at Comox, it's a damned sight duller here,
You have to go a mile or so to get a glass of beer,
As we go marching on.
Chorus:
We are Warden's weary warriors,
We are Warden's weary warriors,
We are Warden's weary ,warriors,
The Gallant-One-0-Two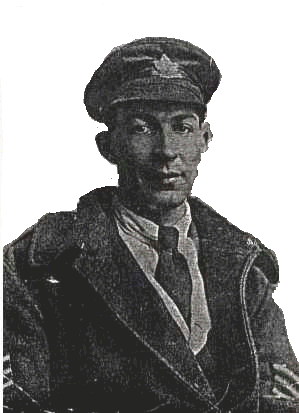 Photo of Lance Sergeant Abraham Abel, born 1892, Wales, UK. He emigrated to Canada at the age of 15 yrs in 1907. In 1911 was working on a farm in Creighton Valley, near Lumby, BC .
He was with the 30th BC Horse Regiment from 1912-1916, then joined 102nd Comox-Atlin CEF at Vernon, commanding officer J W Warden.
He sailed from Halifax on the Empress of Britain arriving in England June 1916. After training at Bramshott camp embarked for France August 1916.
After some months in the front line was hospitalised in Rouen 1917 with trench fever, recovered and returned to frontline duty.
In August 1918 he was wounded by gunshot at Amiens and returned to England. After discharge in 1919, he remained in Berkshire, England where he married and became a greengrocer. He died in 1973, aged 81
Abrahams colleague Frank Page also joined the 102nd Battalion. His Army number is consecutive to my grandads whose no is 703554, Frank Page`s being 703555, his address was also in Lumby BC, but he was born in Suffolk, England.
The curator of the Lumby BC Museum sends this from the Vernon News Archives
February 10, 1916 "Frank Page and A. Abel went to Vernon on Monday and signed on with 102nd Comox Overseas Regiment."
February 17, 1916 "A most enjoyable farewell party and dance was given in Morand's Hall on Wednesday last week by A. Abel and Frank Page who left the next morning to join their regiment, the 102nd Comox-Atlin. The main feature of the evening was dancing, a few card games being indulged in, in another room. An excellent supper was served, and after a long evening's pleasure, farewell's were said to the two boys, the guests returning to their homes in the early hours of the morning."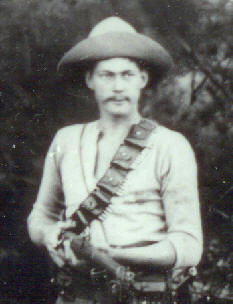 Walter Bapty (1884-1973), the young man on our left holding the gun with the bandoleer over his shoulder, ran away from home and school in January 1900 to join the second Canadian contingent forming to fight in the Boer War. He was just 15 when he sailed on the Laurentian, bound for Cape Town, probably the youngest volunteer with the contingent. In other ways, however, he was a typical volunteer. He was a patriotic English speaking Canadian whose father was a small businessman in London, Ontario. He grew up reading RM Ballantyne and Captain Marryat and tried to emulate the heroes of these books.

Bapty served initially with the Royal Canadian Field Artillery under John McCrae but at the end of his tour signed up with the Canadian Scouts (as seen in the photograph). The Canadian Scouts, raised and led by the charismatic Major 'Gat' Howard, developed a large following in Canada and a reputation for daring, reckless action. After Howard's death in action in February 1901, they also developed a reputation for ruthlessness. It was said, for instance, that they showed no quarter and took no prisoners.

After his return to Canada, Bapty had a distinguished career as a physician. He practiced for many years in Victoria, BC and, in 1912, was a founding member of the Medical Council of Canada. He also had a distinguished military career. He served with the Second CMR in World War I and, following a severe neck wound, was the MO with the 102nd North British Columbians at Vimy Ridge. Following the war Bapty returned to medical practice in Victoria where he was instrumental in establishing the Canadian Scottish Regiment in Victoria, later becoming CO of the 2nd Battalion. This regiment served with great distinction in Normandy and Northwest Europe during World War II. Following this war he again returned to medical practice before retiring. He died in Victoria in 1973.
Chapter 1 Chapter 2 Chapter 3 Chapter 4 Chapter 5 Chapter 6 Chapter 7 Chapter 8 Chapter 9
Chapter 10 Chapter 11 Chapter 12 Chapter 13 Images The Author The VC 29th Battalion Links
BATTLE HONOURS
"SOMME, 1916", "Ancre Heights", "Ancre, 1916", "ARRAS, 1917, 18", "VIMY, 1917", "Hill 70", ", 1917", "PASSCHENDAELE", "AMIENS", "Scarpe, 1918", "Drocourt-Queant", "HINDENBURG LINE", "CANAL du NORD", "VALENCIENNES", "France and Flanders, 1916-18".
Be sure and visit the 102nd Battalion`s Sister Unit - the 54th Kootenay Battalion
Visit the 21st Battalion from Eastern Ontario