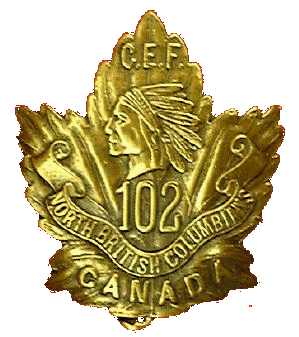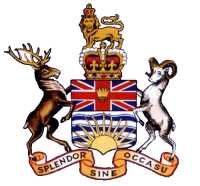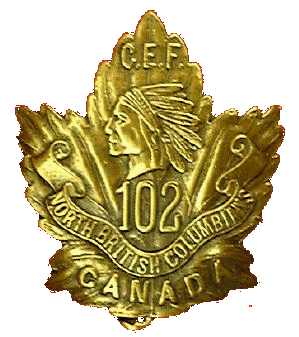 The Story of the 102nd Canadian Infantry Battalion
From BC to Baisieux by Sgt Leonard McLeod Gould HQ 102nd Canadians WW1

www.historyofnelsonbc.ca
documents the story of Captain Edward Charles Arthur, MD, CEF, WW1, of Nelson, B.C.
www.54thbattalioncef.ca
covers the 54th Battalion from Nelson throughout the First World War and after
Chapter 1 Chapter 2 Chapter 3 Chapter 4 Chapter 5 Chapter 6 Chapter 7 Chapter 8 Chapter 9
Chapter 10 Chapter 11 Chapter 12 Chapter 13 Images The Author The VC Uncle Bob 29th Battalion Links
BATTLE HONOURS
"SOMME, 1916", "Ancre Heights", "Ancre, 1916", "ARRAS, 1917, 18", "VIMY, 1917", "Hill 70", ", 1917", "PASSCHENDAELE", "AMIENS", "Scarpe, 1918", "Drocourt-Queant", "HINDENBURG LINE", "CANAL du NORD", "VALENCIENNES", "France and Flanders, 1916-18".
Be sure and visit the 102nd Battalion`s Sister Unit - the 54th Koo8tenay Battalion
Visit the 21st Battalion from Eastern Ontario

Help out with the project to raise a Statue to General Arthur Currie!
Find out about the project by clicking on the image below