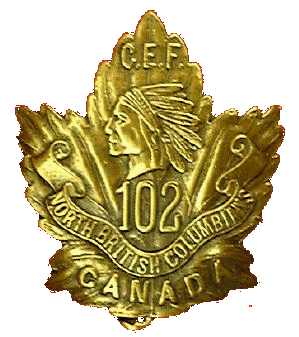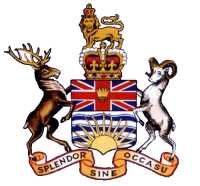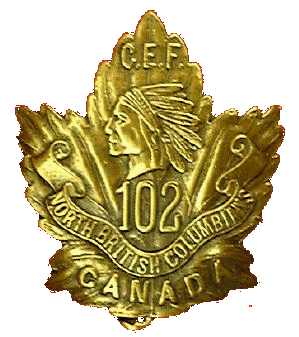 The Story of the 102nd Canadian Infantry Battalion
From BC to Baisieux by Sgt Leonard McLeod Gould HQ 102nd Canadians WW1

How to find your great uncle's army files from WW1?
If your relative was in the C.E.F and you'd like to get his file we can do this for you. We will visit the National Archives in Ottawa, request the file or range of files you want. When its located we'll advise you if indeed the material is correct and then order it. Contact us for details via this link EMAIL BN HQ!
Like to get a free copy of your relatives memorial record in the Canadian House of Commons? Here's how:
You can request a laser copy of the page by sending a note to memoriam@parl.gc.ca. This service if provided free of charge by the
Office of the Deputy Sergeant-at-Arms, House of Commons. The page is in full colour and measures 8.5 X 11 inches and is a wonderful gift of
remembrance when matted and framed.

You can also visit their database, The Canadian Virtual War Memorial and review the record in question, they are always interested in receiving any missing information to complete their records if you have any available.
Chapter 1 Chapter 2 Chapter 3 Chapter 4 Chapter 5 Chapter 6 Chapter 7 Chapter 8 Chapter 9
Chapter 10 Chapter 11 Chapter 12 Chapter 13 Images The Author The VC Uncle Bob 29th Battalion Links
BATTLE HONOURS
"SOMME, 1916", "Ancre Heights", "Ancre, 1916", "ARRAS, 1917, 18", "VIMY, 1917", "Hill 70", ", 1917", "PASSCHENDAELE", "AMIENS", "Scarpe, 1918", "Drocourt-Queant", "HINDENBURG LINE", "CANAL du NORD", "VALENCIENNES", "France and Flanders, 1916-18".
Be sure and visit the 102nd Battalion`s Sister Unit - the 54th Koo8tenay Battalion
Visit the 21st Battalion from Eastern Ontario

Help out with the project to raise a Statue to General Arthur Currie!
Find out about the project by clicking on the image below