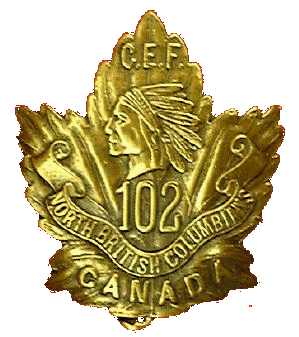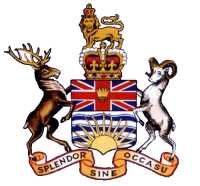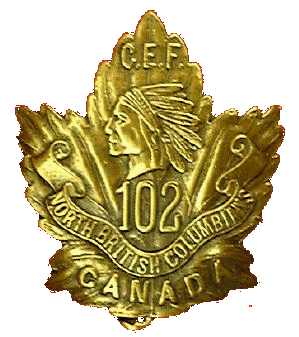 The Story of the 102nd Canadian Infantry Battalion
From BC to Baisieux by Sgt Leonard McLeod Gould HQ 102nd Canadians WW1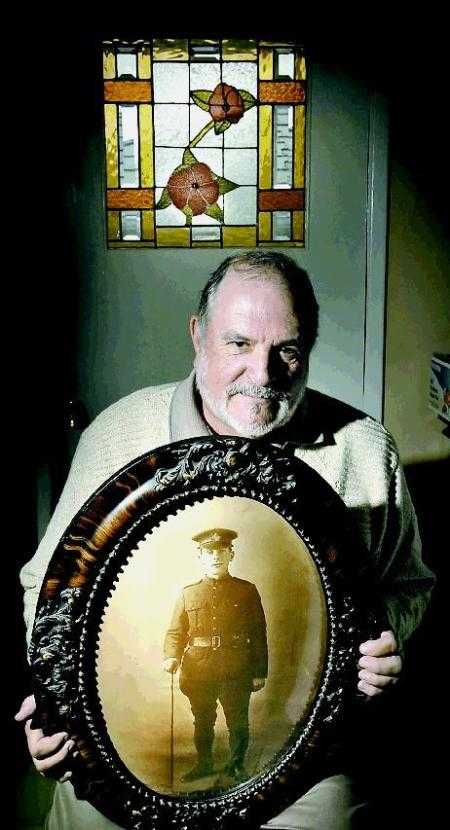 Military mystery uncovered
© The Vancouver Sun. Posted Courtesy The Vancouver Sun.
REMEMBERING
Haunted by a verse, a British woman adopts the grave of a fallen Canadian and touches hearts in Vancouver
Jim Elligott holds an original photograph of his grandfather Edwin Grant, who lies in the CEM at Passchendaele in Belgium. It's the biggest British war CEM in the world, with more than 12,000 grave markers and 34,857 names on the wall that lists those missing in action.
Photograph by : Mark van Manen, Vancouver Sun
Randy Shore, Vancouver Sun
Published: Saturday, November 11, 2006
"Would some thoughtful hand
In that far away land
Please scatter some flowers for me?"
Inscription on the headstone of Pte. Edwin Grant of Vancouver, found in Tyne Cot CEM on Passchendaele Ridge.
Ruth Ross found the inscription quite by chance, but the plea haunted her. The former college lecturer from Surrey, England, happened upon E. Grant's grave marker while conducting a war literature tour in Belgium. Only a fraction of the gravestones are inscribed with a soldier's name and that made it immediately special.
"I could see there was something written on it and when I moved the shrub there was this lovely piece of verse and I could hear this woman's voice, surely his wife," said Ross in a phone interview from her home.
Ross heeded the plea of that nameless woman, leaving a poppy cross on the grave each November for the past five years. But she had always wondered who had spoken to her so powerfully. Ross wrote to The Vancouver Sun in the hope that Edwin Grant's family could be found. Historical documents that are available to the public contained valuable clues.
A search of Edwin's war records quickly reveals the name of his wife, Bella. The voice.
Edwin Grant was already 31 years old when he joined the 102nd Battalion Canadian Expeditionary Force on Feb. 9, 1916. The military attestation papers that he signed in Vancouver on that date reveal not only the name of his wife, but a host of other tantalizing details about his life.
Born in Aberdeen, Scotland, on Dec. 10, 1884, Edwin Grant was a steelworker by trade. He gives his address as 1035 Hastings St., then rules that out and writes 2514 Napier St., perhaps the address that Bella would move to during his service.
Distinguishing marks noted by medical officer F.G. Dunlop include tattoos of a butterfly and a bird on his left arm and a second butterfly with a geisha girl on his right arm. He stood 5-feet-51/4, with blue eyes and light brown hair.
Ruth Ross' mystery soldier was becoming flesh and bone.
Ross takes groups of students to the continent to study the poetry of the First World War. "But before we look at the soldier and officer poetry, I like to show them what the families did, who had just a little space on the bottom of a grave," she said. The relatives of a fallen soldier could add up to four lines of text to a grave marker, no more that 25 characters per line, which would appear in addition to the man's name and regimental information.
"How do you sum up a man in a few words? I send them looking for their own examples," Ross said. "They usually find the religious ones that say 'Thy will be done' . . . and they find the funny little ones that take you right into the family's sitting room like, 'A good lad, much missed by Mum, Dad and Mabel.'"
"They always want to know: 'Who was Mabel?'"
The CEM at Passchendaele is the biggest British war CEM in the world, with more than 12,000 grave markers and 34,857 names on the wall that lists those missing in action.
But the words on the grave marker for Pte. E. Grant "knocked me sideways," Ross says.
I thought: who is this woman who is saying to me, 'I'll never stand at my husband's grave where you are. But if you are there, would you please scatter some flowers for me.'"
Since that day, on the first tour of the season, Ross has taken her students to Edwin's grave, told what little she knew of him from the Commonwealth War Graves website and left flowers on behalf of that nameless woman in a far-off land.
But there was so much more to know, Ross thought. The poetry of the Great War, even that on grave markers, puts a very human face of what are otherwise very remote characters.
"It always affects [the students] very significantly, that they are not visiting a thing, they are visiting a man."
EDWIN, THE MAN
Historical documents provide a scant picture of Edwin and Bella.
According to a marriage certificate on file with B.C. Vital Statistics, Edwin Grant, a 30-year-old bachelor, married Bella Duncan, a 26-year-old spinster, at the First Presbyterian Church in Vancouver on Boxing Day, 1914.
Edwin was the son of John and Mary Grant of Aberdeen, Scotland. John's profession is listed as harbour commissioner.
Bella, who lists her profession as laundry worker, was the daughter of Alexander Duncan, a sailor, and Isabella Proctor.
The Duncan and Grant families were well-acquainted before Edwin and Bella made their way to Canada, their family would later confirm.
An 1881 record of ships in port at Monkwearmouth in Britain makes note of a mate seaman John Grant of Aberdeen, age 32, aboard the vessel Alexandra. The same record includes a notation of ordinary seaman Alexander Duncan, age 19, serving aboard the vessel Olive Leaf.
Bella Grant died in 1974, according to B.C. Vital Statistics. An obituary from The Vancouver Sun notes that she was predeceased by her husband James Grant. She had a daughter, Lillian Elligott, and two grandsons, Alan and Jimmie Elligott.
Edwin and Bella's daughter Lillian was born Aug. 16, 1915, just months before Edwin joined Canada's expeditionary force.
LIVES INTERTWINED
The lives of the Grants and the Elligotts were surprisingly intertwined, both in Vancouver and on the battlefield. Edwin joined up with John (Guff) Elligott. Edwin the steelworker and Guff the stone mason crossed paths as neighbours and tradesmen, according to Lillian, who spoke to The Sun from her bed in a Burnaby nursing home.
"They were all good friends and joined up together," Lillian said.
It was Guff Elligott who knew first of Edwin's death on the battlefield near . Elligott was going up to the front when he met up with Edwin's brother James coming down from the battlefield who told him that Edwin had been killed, Lillian said. It took the department of national defence five weeks to produce the letter that would officially inform the family of his death.
The Commonwealth graves website lists Edwin's date of death as between Oct. 26 and Oct. 28, 1917, during a British offensive that cost tens of thousands of soldiers' lives on both sides.
The third battle at (known to the British Tommies who fought there as "Wipers") began at the end of July 1917, and ended Nov. 6 with the fall of Passchendaele village, just days after Edwin was killed by gunfire.
The Elligotts and Grants remained intertwined after the war. Guff Elligott, who would later work on some the city's landmark buildings including the Hotel Vancouver and the Marine Building, owned a home in Vancouver. When the Elligotts went to Oregon seeking work, that home was rented to Edwin and Bella Grant, and they had a child there, Lillian. Later, when the Elligotts returned, Lillian's future husband Joe would be born in that same house.
So, who is Bella's second husband James Grant?
"James Grant was the grandfather that I knew," said Jim Elligott, from his North Vancouver home. "James was Edwin's brother."
James Beagrie Grant and Bella Grant married in 1924, and they settled on Dundas Street, where they lived with Bella's sisters Grace and Elsie. Lillian and her husband Joe built a home across the street.
James had served in the merchant marine before the war, Elligott says. The tattoos noted on Edwin's attestation papers suggest that he too may have served, though no one in the family is sure.
A KIND STRANGER
Frail but still talkative, Lillian moved into a rest home earlier this year. Birth records, pictures and marriage certificates that detail the joining of the Duncan and Grant families in Scotland and the New World were packed and moved.
Jim Elligott is the keeper of Edwin and Bella's memory now. The family's history is evident in every corner of the home he shares with his wife Marg.
Large oval-framed pictures in his North Vancouver home show Edwin in his uniform, right next to an image of Bella and Lillian, then a little girl, holding a doll that Edwin sent her from Europe during his service.
An elegantly decorated mirror and hairbrush that belonged to Bella are kept in a bedroom near the front room that is full of family antiques and reminders of Lillian's 81 years in the family home on Dundas Street.
A handmade stained glass window in the kitchen glows with red poppies; it was made by Lillian's late husband Joe.
Next week, Ruth Ross will lay a wreath on Edwin's grave on behalf of Lillian and her family.
Tears of joy shone in Lillian's eyes at the news.
"I'm sorry that I never got there myself," she said.
© The Vancouver Sun 2006
(Body)
Chapter 1 Chapter 2 Chapter 3 Chapter 4 Chapter 5 Chapter 6 Chapter 7 Chapter 8 Chapter 9
Chapter 10 Chapter 11 Chapter 12 Chapter 13 Images The Author The VC Uncle Bob 29th Battalion Links
BATTLE HONOURS
"SOMME, 1916", "Ancre Heights", "Ancre, 1916", "ARRAS, 1917, 18", "VIMY, 1917", "Hill 70", ", 1917", "PASSCHENDAELE", "AMIENS", "Scarpe, 1918", "Drocourt-Queant", "HINDENBURG LINE", "CANAL du NORD", "VALENCIENNES", "France and Flanders, 1916-18".
Be sure and visit the 102nd Battalion`s Sister Unit - the 54th Kootenay Battalion
Visit the 21st Battalion from Eastern Ontario